Florida welcomes Howard Stern & "America's Got Talent"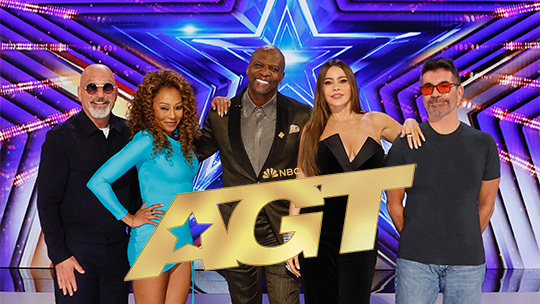 Two thousand people turned out today to watch the first of four audition tapings in the Tampa Bay area for the NBC show "America's Got Talent." More than a few of them were fans of new judge and shock jock Howard Stern (aka the King of All Media).
Even with some strong talent displayed on the Mahaffey Theater stage today, there was no moment more memorable than host Nick Cannon (aka Mr. Mariah Carey) trying to lure a pig off the stage with what appeared to be a bowl of popcorn.
After a long, hot wait in line outside to get inside the theater, we witnessed AGT judges Sharon Osborne (Ozzy's wife), Howie Mandel, and Howard Stern arriving on a yacht and waving to the crowd. The first thing we noticed about Howard is how tall (about 6'5″) and skinny he is. Howard later revealed on his April 9 live radio show–his first live show after more than a week off–that he felt self-conscious about arriving on a big boat and thought it was 45 minutes of wasted time. Although few people could hear it, he said he was using his microphone to say (tongue-in-cheek, of course) "I am wealthy," and "People of Earth, how are you?", an obscure quote taken from Yoko Ono.
The crowd waiting for the show was a motley crew mix of young cuties all dolled up and waiting in line with their boyfriends to older ladies who are surely fans of the show and not its newest judge. It's a wonder that so many people got off of work on a Tuesday for the noon taping.
More than an hour later, once we were seated, a Ryan Seacrest wanna-be type fired up the crowd. He had us stretching, shaking our wrists, clapping to the music, and making faces of excitement and shock for the camera (surely to be used on the show at some point–see our story below, "What to expect if you are in a TV audience" for more details).
Although the show has a strong following, Stern's fans were, without a doubt, the most vocal. During quiet moments, rowdy fans yelled out lines from the show in a code that only they can understand–"Howard, Howard!", "Baba Booey" (the nickname for Stern producer Gary Dell'Abate), "sauce on side," "Beetlejuice," "143," "tradio," and "mayday."
The Judges Arrive…
The judges arrived to sit in their chairs with much fanfare, which included Sharon Osborne falling. Despite the fall, Sharon looked elegant in all white, with striking dark red hair. Howie and Howard both looked chic in black, with Howard in his signature dark sunglasses.
The afternoon taping featured 15 acts competing for a chance to go to Las Vegas and win $1 million. After the auditions in various cities, contestants will compete and the judges will pick the million-dollar winner.
The acts included a captivating Latin dance troupe from Miami wearing the brightest neon costumes you've ever seen, an illusionist who made a motorcycle and biker babe appear on stage, an older man dancing with two canes, and a lady doing tricks with a pig in a pink tutu. The pig refused to do her tricks when prompted and did not want to leave the stage. This is when Nick Cannon tried to help lure her (the pig, not the trainer) off the stage with popcorn.
Audience members did lots of clapping, booing, dancing, standing, and X-crosses with their hands, the latter of which indicates the act should get off the stage (think of the old "Gong Show" concept).
Howard came off as the most direct judge (the Simon Cowell of the group). His comments got a lot of laughs and the occasional boos from people who thought he was too harsh. One 60-something lady sitting near us muttered a few vulgarities when she didn't like something Howard said. Sharon was the nice judge, and Howie was somewhere in between. It's funny to think that Sharon, married to a rocker who supposedly ate a bat on stage in the 1970s, seems like someone you'd sit with for a lovely afternoon tea.
Between acts, makeup artists and hair stylists descended upon the judges' area with toolboxes full of brushes and combs. They looked like aesthetic handymen and women. Howard seemed to have had the most time with the stylists, a fact that he lamented during his live April 9 radio show–he said he wished his hair were easier to maintain. Also in between acts, Howard's bodyguard, Ronnie Mund (aka Ronnie the Limo Driver, or Mr. "Stop the Clock" for all you Superfans), stood beside Howard, expressionless. Howard later shared on his live April 9 radio show that Ralph Cirella, famous friend of Howard and his mom were at some of the tapings (although not the initial one, apparently). Tampa Bay radio personality Bubba the Love Sponge (who formerly appeared on Howard's Howard 101 channel on Sirius/XM) also attended some of the later tapings, and he had a long dinner with Howard one night.
After Tampa Bay, the judges will tape more auditions in New York City on April 11 and 12 and then begin to tape live in May.
Howard Stern can be heard on SiriusXM Satellite Radio, which has been his broadcasting home since 2006.
Editor's note on this special edition of Florida Culture: I first bonded with Howard Stern over fake vomit. Back in his DC101 days in Washington DC, I was a kid in the audience on one of his Christmastime shows in the early 1980s. I told him I wanted Uno cards. He gave me the fake vomit. I found him disgusting. However, I later looked past his vulgarity to enjoy his Woody Allen-esque neurotic sense of humor and his superb interviews with famous people. Hence why Florida Culture was at today's AGT taping…
What to Expect If You Are in a TV Audience
From today's experience in the AGT audience, it's clear that nothing on TV is exactly as it appears and just about everything is prepared, even on so-called reality shows.
While not all shows will have the same rules, here are a few tips to help you prepare for sitting in on a TV show.
1. Look for tapings near you. We overheard people at today's taping talk about sitting in the audience for "The Price Is Right" and "The Ricki Lake Show." Although many tapings naturally take place in Los Angeles and New York, if you're a fan of a particular show, keep your ears open for tapings near you. Sites like http://on-camera-audiences.com/ provide free tickets to shows like AGT, "American Idol," and "Dancing with the Stars". Overall, the experience can be a lot of fun, particularly if you enjoy the show that's being taped. That said…
2. Carve out a good portion of the day for the taping. This taping took nearly 6 hours if you include arriving, waiting in line, getting seated, and then the taping of the actual auditions. However, some shows that require less set up, like game shows, which are no doubt taped more quickly.
3. Expect a dress code. AGT asked audience members to dress in "hip, upscale" attire. Other than that, there were a lot of no's: No hats, no flip flops, no T-shirts, no clothing with logos, no cell phones in the studio, and no white clothing. Bottom line: You might appear on camera, so they want you to look presentable, even when you're in laid back Florida. And even if you plan to look dapper, bring a jacket. Some studios get cold.
4. Prepare to do some acting. Our Ryan Seacrest-like crowd motivator had us acting excited, shocked, happy, and upset. This was all done repeatedly, both for "fun" and for the camera. In other words, the next time you see an odd performance on a performance show and then see someone's reaction, their reaction may have been staged in advance.
5. Marvel at the work that goes into a TV show. They say "there's no business like show business," and that's apparent watching a show like AGT. There were dozens of stage handlers moving props, cameramen, producers, production assistants, staff members searching the crowd for the most motivated audience members, lighting managers….and of course the on-camera famous faces. That doesn't even consider the staff at the theater, including ushers and security. What a production.
5. Get loud. If you are or were the loudest kid in class at school, then participating in a TV audience is just the place for you. The crowd motivator said he wanted us to be loud and rowdy…except when the judges were talking. Production assistants even scanned the audience for particularly motivated spectators. They put a microphone on them and asked them to motivate others around them and shout out cheers and jeers.
5 Responses